For the omake series, see Munmungand.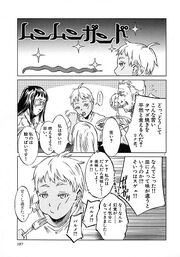 Munmungand (ムンムンガンド, Munmungando?) is the first installment of the Munmungand series.
Jonah gets three different reactions on his fried eggs: Lehm finds them bitter, Koko Hekmatyar thinks they are spicy, while Valmet's are sour. As the flavours continue to change, Jonah thinks that his need more salt.
Valmet thinks about Koko's habit of complaining when things get tough, which she is willing to tolerate. After this has gone on for some time, it seems like Koko goes to somewhere else in her head. Following a long march, Valmet listens in to hear Koko end up saying that she is going to Disneyland as the world is too big, finding this so cute that she has a nosebleed.