Märchen is a toy company that also marketed electronic toys created by Minami Amada. Her electronics were also sought out by militaries for use in drones and guided missiles and bombs which Minami had no reservation toward. Her original staff included her secretaries, Mokoena and Karen Low. The company's first factory is located in Cape Elizabeth, South Africa and is also home to Minami Amada. A second factory would later be created supposedly by the company.
The CIA would take interest in the company with its appearant connection to Koko Hekmatyar, especially in its second factory that the CIA suspected of hiding something.
Märchen's Second Factory
Edit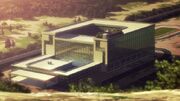 Märchen supposedly expanded with the building of a new factory, but almost the entire building is the first quantum computer for the Jormungand project. Its facilities also includes an onsen that the CIA spies on with a drone to identify their persons of interest. The factory is staffed by physicist Elena Baburin who create the first quantum computer and physicist and hacker Leyla Ibrahim Faiza who decreased the size of the second quantum computer to be launched into orbit.
Ad blocker interference detected!
Wikia is a free-to-use site that makes money from advertising. We have a modified experience for viewers using ad blockers

Wikia is not accessible if you've made further modifications. Remove the custom ad blocker rule(s) and the page will load as expected.