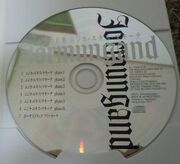 Drama CD Musica Ex Machina (ドラマCD ムジカ・エクス・マキーナ, Dorama CD Mujika Ekusu Makīna?) is an audio drama CD of the Musica Ex Machina Arc. It is the first media adaptation of the manga and was included with a special edition reprint of Volume 9 which was published in February 2011, preceding the anime by more than a year.
The CD closely follows the manga with the addition of music and sound effects and was packaged in a slipcover attached to Volume 9 that features new artwork by Keitarō Takahashi depicting Valmet, Koko Hekmatyar, and Jonah. With the exception of Unshō Ishizuka, who voices Lehm, none of the other voice actors reprises their respective roles in the anime.
Track list
Edit
No.
Title
Chapter/Description
Length
1
Musica Ex Machina Phase 1 (

ムジカ・エクス・マキーナ phase.1

?

)
Introduction by Jonah.
2:20
2
Musica Ex Machina Phase 2 (

ムジカ・エクス・マキーナ phase.2

?

)
Chapter 6
10:17
3
Musica Ex Machina Phase 3 (

ムジカ・エクス・マキーナ phase.3

?

)
Most of Chapter 7 up through when Jonah and Koko Hekmatyar leave the shopping centre.
7:26
4
Musica Ex Machina Phase 4 (

ムジカ・エクス・マキーナ phase.4

?

)
Remainder of Chapter 7 and Chapter 8
7:17
5
Musica Ex Machina Phase 5 (

ムジカ・エクス・マキーナ phase.5

?

)
Chapter 9
9:16
6
Musica Ex Machina Phase 6 (

ムジカ・エクス・マキーナ phase.6

?

)
Chapter 10
12:02
7
Bonus Track - Free Talk (

ボーナストラック フリートーク

Bōnasutorakku Furītōku

?

)
The voice actors for Koko, Jonah, Valmet, Lehm, Shisho, and Chinatsu introduce themselves.
2:58
Cast list
Edit
External links
Edit
Ad blocker interference detected!
Wikia is a free-to-use site that makes money from advertising. We have a modified experience for viewers using ad blockers

Wikia is not accessible if you've made further modifications. Remove the custom ad blocker rule(s) and the page will load as expected.